IN-PERSON CLASSES NOW AVAILABLE!!
CLICK HERE TO REGISTER FOR AN UPCOMING CLASS!
NOTE: CLASSES ARE SHOWN AS "FULL AND WAITLISTED" BUT SEATS ARE AVAILABLE! BE SURE TO SIGN YOUR STUDENT UP FOR THE WAITLIST TO SECURE HIS/HER SEAT IN THE CLASS. WE WILL NOT CHARGE YOU FOR THE CLASS UNTIL WE ARE 100% IT WILL RUN!
NOW OFFERING ONLINE CLASS OPTION!
We now offer the 30/6 Driver's Ed package with an online 30-hour Joshua's Law class option. The online class meets all state eligibility requirements for students ages 15-17 to obtain their class C driver's license. Once complete, the student will participate in the 6-hour behind-the-wheel instruction one-on-one with an experienced instructor.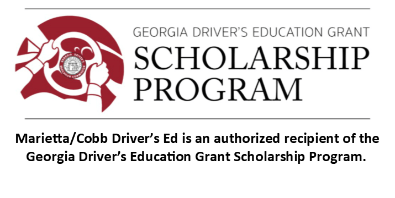 The Georgia Driver's Education Commission is offering a scholarship program that will cover the cost of a 30/6 Driver's Ed program for teens ages 15 - 17 who hold a Driver's Permit. To apply for a scholarship, visit https://www.gahighwaysafety.org/driver-ed-scholarship/.
To redeem your student's scholarship with our program, you must call 678-919-4492. Scholarships can only be used for the purchase of the 30/6 program. Redemption of the scholarship must occur prior to the first day of the 30-hour class, no exceptions. Limited seats available per session and/or per scholarship expiration date.