need a Road test?
We will begin offering the Class D License Road Test beginning in July. If your student has completed the 30/6 program with us and has held their permit for one year and one day, please email drichardson@marietta-city.org for more information on scheduling a road test.
Please know that we are unable to offer the modified Road Test. If your student received a temporary license in the past few months and is interested in taking the modified Road Test, contact the GA Department of Driver Services at www.dds.ga.gov to schedule the Test.
(The modified Road Test is only available to those teens that received the temporary license under Gov. Kemp's Executive Order.)
click here for road test faq!
NOW OFFERING ONLINE CLASS OPTION!
We now have available a 30/6 Driver's Ed package with an online 30-hour Joshua's Law class and 6-hours behind-the-wheel instruction. The online class meets all state eligibility requirements for students ages 15-17 to obtain their class C driver's license. Once complete, the student will participate in the 6-hour behind-the-wheel instruction one-on-one with an experienced instructor.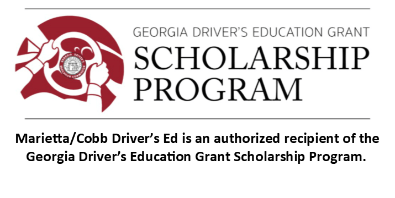 The Georgia Driver's Education Commission is offering a scholarship program that will cover the cost of a 30/6 Driver's Ed program for teens ages 15 - 17 who hold a Driver's Permit. To apply for a scholarship, visit www.georgiadrivers.ga.gov.
To redeem your student's scholarship with our program, you must call 678-919-4492. Scholarships can only be used for the purchase of the 30/6 program. Redemption of the scholarship must occur prior to the first day of the 30-hour class, no exceptions. Limited seats available per session and/or per scholarship expiration date.